Leaflet Distribution WARWICK — Defenda Leaflet Distribution offer the most accurate & transparent circular & leaflet delivery in Warwick.
Below is an overview of our Leaflet Distribution in Warwick, along with other help that's available to ensure a successful Letterbox Marketing Campaign.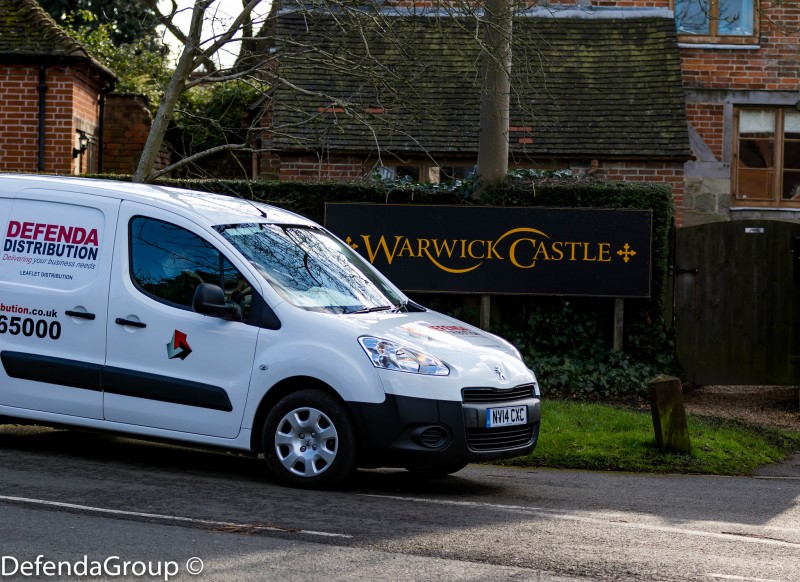 Targeted Leaflet Distribution Warwick & Warwickshire with Defenda Leaflet Distribution is ideal for companies or organisations wishing to target the ancient town of Warwick with Live GPS Tracked leaflet delivery.
DEFENDA LEAFLET DISTRIBUTION are perfectly positioned as leaflet distributors to ensure that your leaflet distribution campaign in Warwick is conducted accurately & transparently with geodemographic planning & mapping support, along with very detailed local knowledge of the area.
From our base in nearby Coventry we operate delivering leaflets almost daily within Warwick itself — with teams providing either blanket coverage or a more specifically targeted service aimed at a pre-determined demographic.
Leaflet Delivery in Warwick includes LIVE GPS TRACKED DELIVERY of your leaflets or samples.
Whatever service you require, you will be pleased to know that our commitment to providing the most transparent & effective door-drop service means that from the start of your campaign until it is complete, you can watch in Real-Time our Warwick Leaflet Distributors as they are delivering your material. From your computer or mobile phone you can see them visit every door within your target area.
HELP WITH CAMPAIGN PLANNING
A combination of our demographic data & mapping software allows us to help you prepare a campaign that is targeted at the most appropriate group for your particular product. We can also advise on the number of households within your desired area, helping avoid the costly exercise of over printing leaflets through poor data.
For your information the Postcode for leaflet distribution in Warwick is CV32
Leaflet Distribution Warwick — Talk to us about LEAFLET DELIVERY in WARWICK or any other area of the UK
Potential clients wishing to discuss a forthcoming campaign can contact us by email info@defendadistribution.co.uk or telephone on Coventry 024 76465000. Our Coventry Offices are open Monday to Friday 8.30am to 5.30pm
GPS Tracked Warwick Leaflet Distribution is available as a solus service (your leaflet only) or as part of a shared leaflet delivery option.